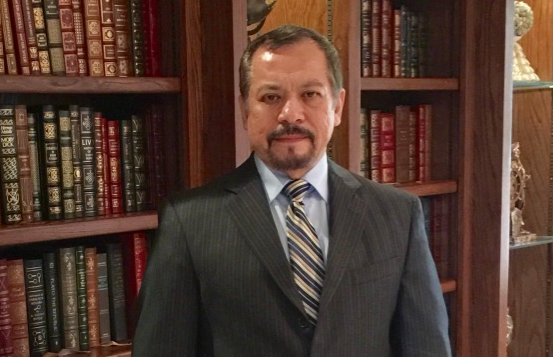 Genaro Fraustro
Criminal Defense and Personal Injury
---
1412 Duke Avenue,
McAllen, TX 78504

956-994-8072
Graduated from McAllen High School in 1970
University of Texas at Pan Am in Edinburgh, Texas, graduating in 1977
Jurisprudence Doctorate (JD) degree from South Texas College of Law Houston in 1995
State Bar Of Texas Association
Hidalgo County Bar Association
National Association Of Consumer Bankruptcy
National Association Of Criminal Defense lawyers
American Association For Justice
Criminal Defense
Personal Injury
Genaro Fraustro grew up in McAllen, Texas. He graduated from McAllen High School in 1970. He went to college at the University of Texas at Pan Am in Edinburgh, Texas, graduating in 1977.
After college, Mr. Fraustro entered the Real Estate Profession starting as a Realtor, Broker, Builder and Real Estate Developer in the Rio Grande Valley while living in McAllen, TX.
In 1992 he entered law school in Houston, Texas and obtained his Jurisprudence Doctorate (JD) degree in 1995 from South Texas College of Law Houston. He then took and passed the Texas Bar Exam and relocated back to McAllen.
Criminal Defense
Once in McAllen, he began his criminal law career with a short stint at the Hidalgo County District Attorney's Office under District Attorney Rene Guerra. . After a short stint at the D.A., Mr. Fraustro started his own law practice in July of 1998. Within a short period he established his own law firm and worked in Juvenile, Domestic Violence, Misdemeanor and Felony Crimes where he handled literally hundreds of cases. This broad spectrum allowed Mr. Fraustro to gain great knowledge of the vast criminal law arena. While working at the District Attorney's Office, Mr. Fraustro also formed many valuable friendships with fellow attorneys, prosecutors, judges, clerks, bailiffs, corrections officers, probation officers and judicial assistants that continue to be of great benefit to his practice today.
Working throughout South Texas with his principal practice in the McAllen, Texas metro area, Mr. Fraustro has the experience to get results. As an expert in criminal defense, he has defended hundreds of cases involving DUI and other alcohol related driving offenses and drug offenses. Mr. Fraustro is also expert in defending cases involving aggravated assault, domestic violence, gun related crimes, sex crimes, and other Misdemeanor and serious Felony crimes.
As a seasoned criminal law specialist, Mr. Fraustro knows the system inside and out. He will use his formidable knowledge and experience to fight for you, your freedom and your rights.
Personal Injury
Since 1998 I have helped people with their legal issues and problems. My experience has been mostly centered in representing people who are injured due to the fault of others in a work-related accident or in an auto related accident. My firm is committed to helping clients who have been seriously injured by careless drivers, dangerous products, and negligent employers.
Specialties: Tire Defect Cases; Workplace Negligence cases; Construction Site Accidents; Trucking accident cases; Motorcycle Accidents.