Affiliations and Memberships

The Hidalgo County Bar association has been in existence since 1928, and has been a valuable resource for our legal professionals and community. From continuing legal education to member services, they are dedicated to helping their members achieve their goals, and to increasing our community's understanding and appreciation of the legal system. The Hidalgo County Bar Association has a membership roster in excess of 760 and proudly serves more than 2500 lawyers in 13 surrounding counties.

NACBA is the only national organization dedicated to serving the needs of consumer bankruptcy attorneys and protecting the rights of consumer debtors in bankruptcy. Formed in 1992, NACBA now has more than 4,000 members located in all 50 states and Puerto Rico.
NACBA has also played a critical role in many important court cases affecting the rights of consumer bankruptcy debtors by filing amicus briefs in U.S. Courts of Appeal and the Supreme Court, with many of those case decisions influenced by NACBA's participation.
NACBA helps consumer bankruptcy attorneys represent their clients more effectively.

NACDL – "Liberty's Last Champion"
The National Association of Criminal Defense Lawyers™ is the nation's preeminent bar association serving the criminal defense profession, and is committed to serving a diverse and inclusive community of lawyers. It provides opportunities for attorneys to connect, share information and learn from one another. NACDL's members also support an advocacy program in the courts, legislatures and regulatory agencies, that promotes indigent access to counsel, abolition of the death penalty, fairer sentencing laws and opposes over criminalization.

(Formerly ATLA ) The Mission of the American Association for Justice is to promote a fair and effective justice system—and to support the work of attorneys in their efforts to ensure that any person who is injured by the misconduct or negligence of others can obtain justice in America's courtrooms, even when taking on the most powerful interests.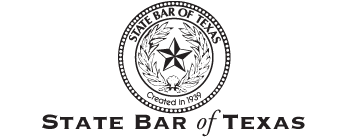 The Texas Bar is composed of those persons licensed to practice law in Texas and is an "integrated" or "mandatory" bar. The State Bar Act, adopted by the Legislature in 1939, mandates that all attorneys licensed to practice law in Texas be members of the State Bar.
The mission of the State Bar of Texas is to support the administration of the legal system, assure all citizens equal access to justice, foster high standards of ethical conduct for lawyers, enable its members to better serve their clients and the public, educate the public about the rule of law and promote diversity in the administration of justice and the practice of law.